2023 Civil Law Fall Symposium
November 2, 2023
Resources
Attorney-led Voir Dire
The Supreme Court's October 2022 and 2023 Terms: Free Speech and Social Media, Race and Politics, and Chevron Deference
Has the Ship Sailed on Litigation of Employment Rights?
Strategies for Settling Your Case: Settlement as a Process, Not an Event
Brian Ashe
Brian's main areas of practice are complex litigation, class and collective actions, and counseling. Brian defends employers in wage/hour and PAGA matters, discrimination issues, trade secret cases, and multiparty contract litigation. He counsels clients in various aspects of human resources management, including compliance, independent contractor issues, privacy, and equal employment opportunity. Brian's counseling practice focuses on prevention and artful business strategy.
Brian has been named one of the leading US lawyers for employment law according to Chambers USA for every year since 2009, credited as "having 'an almost encyclopedic knowledge' of labor and employment law, with specific 'excellence on everything wage and hour related'." Chambers notes that, "clients praise him as 'a strategic and efficient attorney who dispenses sound advice"' whom they turn to "to help us assess the risk with various employment actions in a way that is easy to understand, and he does so in an expeditious manner."
Brian is routinely honored by The Legal 500 as one of America's leading employment litigation lawyers (Legalese Ltd.). They have honored Brian with this award multiple times throughout the past decade, reporting that his clients describe him as "the most effective labor and employment counsel with whom I have ever had the pleasure of working with" because he "consistently delivers superior results." Brian was recognized in BT/Consulting Group's BTI Client Service All-Stars report and was cited as "absolutely the best at client service" because he is "head and shoulders above the rest … with the mostdemanding clients." He is recognized as a leader in his field in The Best Lawyers in America (Woodward/White Inc.) (2018-2024) and has been rated as a "star" in Tier 1 of Benchmark Litigation's survey of the finest employment lawyers in the United States every year since its inception in 2018.
Brian has been listed as one of The Daily Journal's Top Labor and Employment Lawyers in California based on professional accomplishments and case victories. He has also been awarded the Financial Times "Innovative Lawyer" commendation for his U.S. Supreme Court victory establishing the scope of the Dodd-Frank Act whistleblower law.
Brian has served on Seyfarth's Partner Board since 2016 and was its Chair for the three years before 2024. He was a recipient of the firm's Mike Warner Award for "sacrifice, team work and legal excellence," is the only partner ever to have received Seyfarth's "Inspirational Leader Award" for his dedication to helping others in need, and received the "Champion of the Year" from Best Buddies International.
Khaldoun Baghdadi
Khaldoun Baghdadi is a shareholder at Walkup Melodia Kelly & Schoenberger in San Francisco. He has been with the firm for 25 years. He has tried cases in State and Federal Courts on topics ranging from medical device failures to insurance disputes. He has held faculty positions at UC Berkeley and UC Law SF teaching trial advocacy and moot court. He is a member of ABOTA, the American College of Trial Advocates and International Society of Barristers.
Judge Laurel Beeler
United States Magistrate Judge Laurel Beeler was appointed in 2010 to the Northern District of California. She has presided as a trial and settlement judge over hundreds of civil cases, including intellectual-property, employment, civil-rights, and commercial disputes.
Before joining the court, Judge Beeler was an Assistant U.S. Attorney in the Northern District, prosecuting complex white-collar cases with parallel civil components. She was the Office's Professional Responsibility Officer and Deputy Chief of the Criminal Division. She was a law clerk to the Honorable Cecil F. Poole, United States Court of Appeals for the Ninth Circuit. She trained as a mediator with the Northern District's ADR Program, the Federal Judicial Center, and Harvard Law School.
Judge Beeler is a member of the Ninth Circuit Conference Executive Committee. She is one of four judges on the U.S. Department of Justice/Office of Defender Services Joint Electronic Technology Working Group. She chairs the Northern District's Criminal Practice Committee, implemented the court's reentry and diversion courts, and, with United States District Judge Haywood S. Gilliam, Jr., implemented and facilitates the court's Racial Justice Working Group.
Judge Beeler was President of the Federal Bar Association for the Northern District, co-chair of the Lawyer Representatives to the Ninth Circuit, a board member of the Bar Association of San Francisco (BASF), and a member of the Ninth Circuit=s Jury Trial Improvement Committee. She is a member of BASF's Criminal Justice Task Force and the Executive Committee of the Edward J. McFetridge American Inn of Court. Judge Beeler was named one of The Recorder's A2012 Women Leaders in Law@ and received the Northern District Judicial Conference's Public Service Award, BASF's Barristers Choice Award, the Federal Bar Association's Inaugural Chapter Achievement award, the San Francisco Trial Lawyers Association's 2018 Federal Judge of the Year award, and the Women Lawyers of Alameda County's 2023 Jurist of the Year award.
Judge Beeler taught Civil Trial Practice at U.C. Berkeley School of Law and Criminal Procedure at U.C. Hastings College of the Law. She has led rule-of-law projects in Indonesia, Vietnam, Cambodia, the Philippines, Jordan, Ukraine, Turkey, Thailand, and the Philippines.
Judge Beeler graduated with honors from the University of Washington School of Law, where she was Order of the Coif and an Articles Editor on the Washington Law Review. She received her A.B. with honors from Bowdoin College.
Asim Bhansali
Asim Bhansali has spent nearly 25 years as a courtroom trial lawyer and litigator handling the disputes that matter most to his clients, whether they are Fortune 100 companies, new market entrants, or individuals. Asim's experience includes patent, antitrust, trade-secret, class-action, and commercial-dispute cases. He has served as lead and second-chair counsel in jury trials and arbitrations.
Dean Erwin Chemerinsky
Erwin Chemerinsky is Dean and Jesse H. Choper Distinguished Professor of Law, University of California, Berkeley School of Law. Prior to assuming this position he was the founding dean of the University of California, Irvine School of Law, and a professor at Duke Law School, University of Southern California Law School, and DePaul Law School. He is the author of 15 books and over 200 law review articles. He frequently argues appellate cases, including in the United States Supreme Court. In 2022, he was the President of the Association of American Law Schools.
Mary McNamara
Mary McNamara is the co-founder of Swanson & McNamara LLP, a trial and appellate boutique specializing in white-collar criminal defense and commercial litigation matters. She is rated Band 1, Litigation: White Collar Crime & Government investigations by Chambers USA and is AV-rated by Martindale Hubbell. Mary has been a Northern California Super Lawyer every year since 2004 and was named Best Lawyers 2012 Lawyer of the Year in White Collar Criminal Defense in San Francisco. She is frequently retained by leading companies in the Fortune 500 list to represent them and their executives in litigation and government and regulatory investigations.
Mary is the immediate past president of the Bar Association of San Francisco and is a member of the Legal Committee of the ACLU, Northern California. She served extended stints as the Criminal Justice Act (CJA) Panel Attorney District Representative for the Northern District of California and as a member of the national Defender Services Advisory Group to the Defender Services Office of the U.S. Courts. She was a co-chair of the Lawyer Representatives for the Northern District of California to the Ninth Circuit Judicial Conference and served on the Merit Selection Panel to choose magistrate judges for the Northern District of California.
Bambo Obaro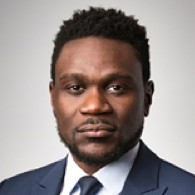 Bambo Obaro is a partner in Weil's Complex Commercial Litigation practice and an accomplished trial lawyer. Bambo has more than a decade of experience litigating at the trial and appellate levels in a wide range of disputes, including antitrust enforcement cases, trade secrets and restrictive covenants claims, consumer class actions, product liability MDLs, breach of contract suits, and securities actions, others.
Across the practice area spectrum, Bambo has developed a favorable track record in utilizing the litigation process to generate enhanced leverage on behalf of his clients to navigate to and negotiate towards successful settlements, before, during, and after trial. He has helped his clients obtain many novel settlements in extremely complex cases involving consumer, competitor, and regulatory adversaries.
Bambo is regularly honored by leading industry publications as a top commercial litigator, including by Chambers USA, Legal 500, Daily Journal, and Benchmark Litigation.
He currently serves on the Executive Committee of the Northern District of California Chapter of the Federal Bar Association, and in 2022, Bambo was selected to serve on the Magistrate Judge Merit Selection Panel for the Northern District of California. Bambo also serves on the Board of Governors for The University of San Francisco School of Law, from which he received his J.D., and on the Board of Larkin Street Youth Services, which is a nonprofit serving homeless youth in the San Francisco Bay Area.
Cliff Palefsky
Cliff Palefsky is an employment lawyer and civil rights lawyer. He is a partner in the law firm of McGuinn, Hillsman & Palefsky. A 1977 graduate of the Georgetown University Law Center, he has been involved in many of the leading cases that have come to define the fields of employment and arbitration law. He was a founding Board member of the National Employment Lawyers Association and served on its Executive Board for 10 years. He was the co-chair of NELA's Mandatory Arbitration Task Force and was co-chair of the Privacy, ADR and Securities Industry Arbitration Committees. He also served on the Executive Board of the California Employment Lawyers Association for 12 years and is presently on the organization's Advisory Board.
Cliff was an advisor to the American Law Institute on the drafting of the Restatement of Employment Law and is a co-author of the CEB's Wrongful Employment Termination Practice treatise. He is a Fellow in the College of Labor and Employment Lawyers and has authored numerous articles on employment law and mandatory arbitration.
Cliff is a two time recipient of the California Lawyer of the Year award by the Daily Journal and is consistently ranked as one of the nation's leading plaintiff side employment lawyers. He helped draft the nation's first worker privacy, drug testing and lifestyle discrimination laws which served as models for similar legislation across the country. He has also been deeply involved in both state and federal legislative activities protecting the rights of workers.
He has argued eight cases to the California Supreme Court and has been involved in numerous landmark and precedent setting cases such as Armendariz v. Foundation Health Psychcare, Sonic-Calabasas v. Moreno , Rulon Miller v. IBM, Foley v. Interactive Data, Little v. Auto Stiegler, Gentry v. Circuit City, and Duffield v. Robertson Stephens, among others.
Michael Rubin
Michael Rubin is partner at Altshuler Berzon LLP in San Francisco, where he specializes in appellate litigation, class actions, and public policy/impact litigation. He is a former law clerk to former Associate Justice William J. Brennan Jr. of the U.S. Supreme Court, former Chief Judge James R. Browning of the Ninth Circuit, and former Judge Charles B. Renfrew of the Northern District of California. Michael is a graduate of Brandeis University and the Georgetown University Law Center.
Michael has won seven "California Lawyer of the Year" (CLAY) awards from California Lawyer Magazine/Daily Journal in four separate categories, and in each year since 2016 has been recognized by the California Daily Journal as one of the "Top Labor and Employment Attorneys," and in many years as one of the "Top 100 Lawyers in California." He is a past recipient of a "Trial Lawyer of the Year" Award from the Trial Lawyers for Public Justice for his work on the Saipan sweatshop litigation, won American Lawyer Magazine's "Litigator of the Week" award for his work on behalf of five professional sports unions in groundbreaking right-of-publicity litigation in the Third Circuit, and in 2017 was honored with the San Francisco Anti-Defamation League's "Distinguished Jurisprudence" award.
Michael regularly lectures on developments in California and federal employment law and other topics, including at Stanford Law School and Berkeley Law, and has testified before committees of the United States Senate and House of Representatives on labor and employment issues. He was counsel for the plaintiffs in Viking River Cruises in the U.S. Supreme Court and Adolph in the California Supreme Court.
Julia Sherwin
JULIA SHERWIN is an AV (Preeminent) rated attorney and a partner in Haddad & Sherwin LLP, in Oakland, California. She began her career in Detroit at the first racially integrated law firm in the country, Goodman, Eden, Millender & Bedrosian. She is a former longtime Board and Executive Committee member of the National Police Accountability Project (NPAP), served as the organization's Vice President for three years, and ran the organization's CLE program for ten years. She is Past President (2007) of the Alameda Contra Costa Trial Lawyers and a past board member (2007) of the Consumer Attorneys of California. She exclusively handles wrongful death and catastrophic injury police and jail misconduct cases. Julia has successfully tried and settled numerous serious injury, wrongful death, and civil rights cases in federal and state courts in the seven and eight figures.
Julia is a frequent speaker on civil rights matters, and has a special interest in law enforcement contacts with people in crisis or suffering from behavior health issues. After Julia spoke at an international Death in Custody conference that had participants from 27 countries in attendance, Minnesota Attorney General Keith Ellison asked her to consult with him and his team of special prosecutors handling the criminal cases arising out of the murder of George Floyd, which she did pro bono. She is a co-author of the 2022 Physicians for Human Rights report Excited Delirium and Deaths in Police Custody: The Deadly Impact of a Baseless Diagnosis. She has taught attorneys, physicians, and investigative reporters from around the nation about the junk science nature, and racist and sexist roots, of the defense theory of "excited delirium," which is commonly put forth in restraint asphyxia cases such as the George Floyd case.
Whenever possible, Julia focuses on obtaining injunctive relief reforms that will prevent what happened to her clients from happening to anyone else. She obtained the State of California's first mandatory training program in public schools to combat discrimination and harassment against LGBTQ students and teachers. She handled the first case in the country to hold that Administrative Law Judges have First Amendment rights to make decisions free of outside pressure, resulting in the rescission of the Michigan Department of Corrections' quota requiring that 90% of inmates accused of misconduct be found guilty. She and her partner, NPAP Past President Michael Haddad, negotiated sweeping reforms to the City of Oakland's crowd control policies. She obtained a first-in-the-nation agreement requiring Corizon Health, Inc., to have Registered Nurses or higher-level caregivers conduct all receiving screenings and patient assessments in all jails in the State of California in which Corizon has contracts. She negotiated sweeping reforms to the City of Napa's policies and training to prevent child abuse and neglect injuries and deaths, and obtained a settlement requiring a new county-wide Crisis Intervention Team training program to help deputies safely handle calls involving mentally ill people in crisis.
Julia has been selected as a Northern California Super Lawyer in the area of Civil Rights in 2006 and every year since 2008. From 2012 to 2014, she was a Lawyer Representative to the Ninth Circuit Court of Appeals and the Northern District of California. She lives in Oakland, California, with her law partner and husband, Michael J. Haddad, and their two rescue dogs. For more information, please see her firm's website, www.haddadandsherwin.com.
Steve Taylor
Stephen Taylor founded Taylor & Co. Law Offices more than 31 years ag and, prior to that time, was a partner at Graham & James and Kindel & Anderson. He attended Williams College and the University of California, Berkeley School of Law, going on to a federal clerkship with the Honorable William T. Sweigert in the Northern District of California. Steve has served as the President of the ABTL and a member of its Board of Governors, as a Board member of the BASF, a Lawyer Representative to the Ninth Circuit Judicial Council, and as a Board member of the Federal Practice Program. He is a recipient of the Northern District's Public Service award and is co-author of the Bancroft-Whitney publication "California Negotiations and Settlement Handbook." Steve currently serves as an Advisor to both Ridgeline Apps and the Immigration Legal Defense group, and is an active Workday Foundation Board member.
For more than 40 years Stephen's focus as a litigation lawyer has been finding creative ways to obtain the best results for his clients as efficiently as possible. Early in his career Steve recognized that few cases actually go to trial. The great majority are resolved by a settlement, all too often without the benefit of having approached the case with a strategic focus on planning in advance for how to "win" the settlement for the client. Steve continues to offer strategic resolution advice to clients. He currently represents selective clients as a resolution and mediation advocate, as well as providing assistance to multiple parties as a third-party facilitator or mediator. Always interested in learning more about how best to resolve disputes favorably and quickly, Stephen recently completed courses on mediation and resolution advocacy presented by the Cornell School of Law and the Edwards Mediation Academy.